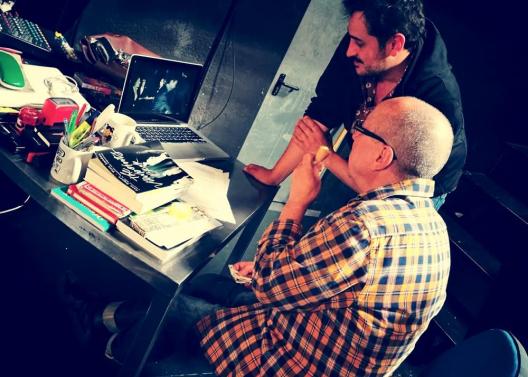 Gabriel Olivares, TeatroLab Madrid director, with Toni González
In April we have started a new collaboration with TeatroLab Madrid, space for theatre creation directed by Gabriel Olivares.
TeatroLab Madrid es una compañía de teatro y espacio de investigación abierto a artistas de procedencias diversas. Fundado y dirigido por Gabriel Olivares, TeatroLab Madrid produce espectáculos y proyectos de teatro en donde el actor ocupa el centro y es punto de partida del proceso creativo. El TeatroLab nace de una idea: la del teatro como lenguaje colectivo, sin fronteras. Y de una necesidad: la búsqueda de nuevas perspectivas, nuevas expresiones y significaciones del espacio escénico. Este es el origen de un laboratorio de investigación teatral basado en un trabajo colectivo que usa diversas herramientas con las que llegar a un nuevo diálogo entre cuerpo y espacio, palabra e imagen, compromiso y presencia escénica (enlace a la web).