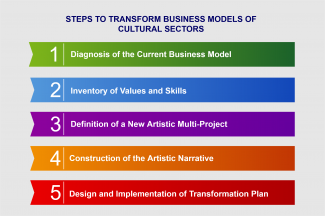 Chart Steps Transformation Business Models of Cultural Sectors
The business models of the cultural sectors have a common denominator that weakens them, their offer of products or projects is not very diversified.
In the cultural sectors, the business models developed by the same creative group generate a range of very similar projects. Cultural and artistic companies or organizations often do not stand out for the diversity of their proposals, understanding by diversity the generation of new projects coming from the main creative activity, but aimed at other audiences, circuits or generating new value propositions.
Actually, it will be said, it is entirely logical that artists dedicate themselves fully to the activity that they are passionate about. However, we are going to see that, by opening the spectrum of proposals, cultural projects can be more sustainable.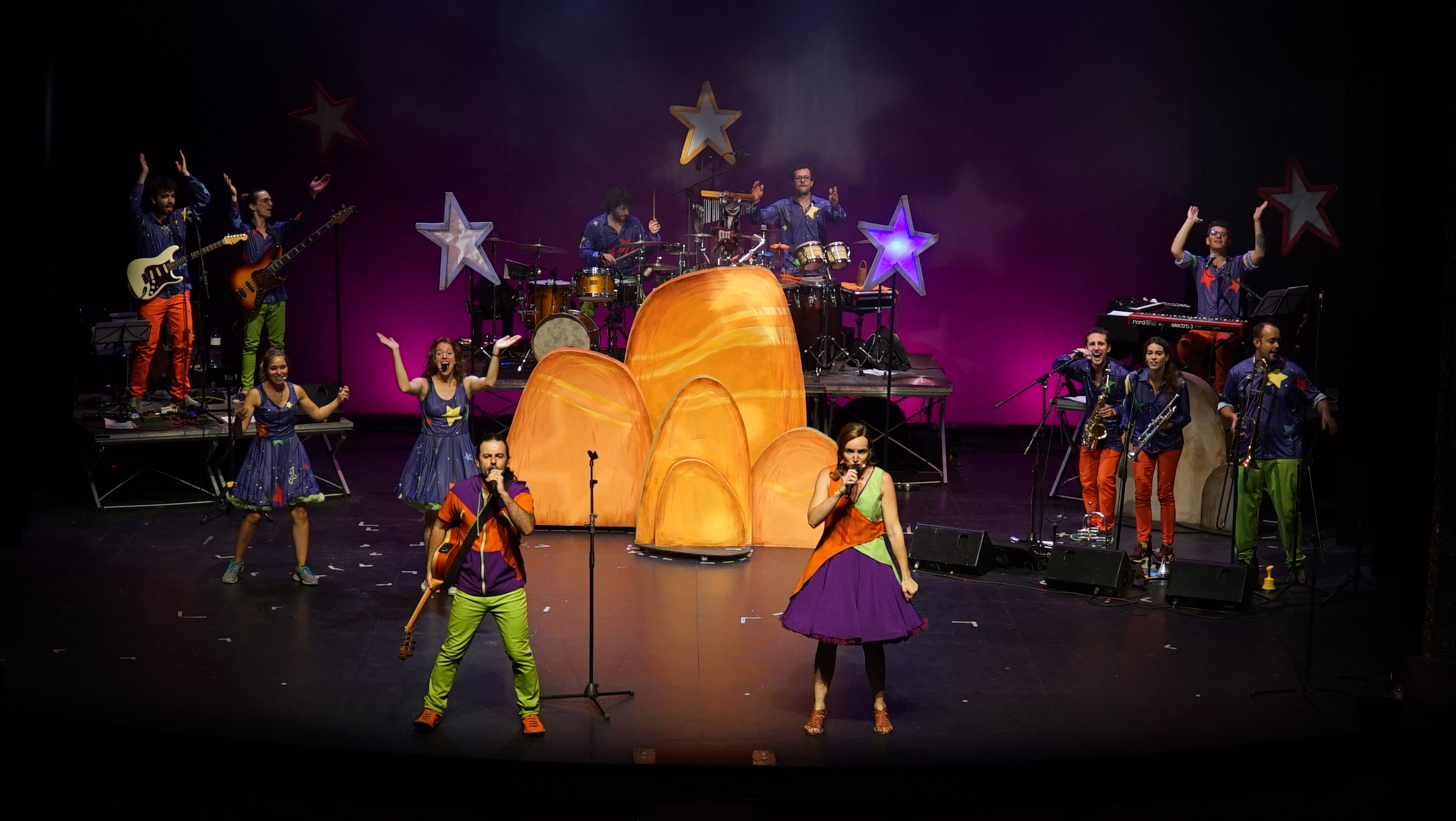 UNSUSTAINABLE BUSINESS MODELS IN PRECARIOUS SECTORS
Business models in arts require "value propositions" with which to satisfy desires and expectations. As soon as these value propositions are perceived as unique and differentiated from other similar ones, they will be relevant and the business model will survive. However, in the arts, value propositions are formalized in a restrictive sense, adjusted to the most primary creative capacities. For example, in a very simple way, if you are a composer you compose, If you are an interpreter, you play for other bands. Thus, restrictive patterns of business models spread in the arts.
In parallel, it must be taken into account that the artistic sectors present a high rate of precariousness. The projects, with few exceptions, do not have enough income to achieve an economic sustainability.
TRANSFORM TO DEVELOP
To adjust the creative capacities to the economic sustainability of the projects, it is necessary to diagnose and transform these models. Without necessarily changing its creative essence, the transformation should allow secure sufficient income to live in dignity.
The change in the business model should focus on taking advantage of the different values and capacities that organizations, companies or artists have. Based on these values, design new proposals which will define a new "multi-project". Thus, the artistic "multi-project" brings together all the creative talents of the organization, transforming them into a unique and diverse combination of projects, products and services. In the following list you can find some examples of the elements that can compose an artistic multi-project:
PROJECTS
Artistic productions: concerts, theatre and dance shows, exhibitions
Education: workshops, courses, etc.
Collaborations: participation in third party projects
Digital productions: media and music recordings
Social: inclusion, integration of vulnerable communities
Health: music therapy, art therapy
Business: innovation, team building
Rights, licenses
However, defining an artistic "multi-project" does not mean subsistence and development. Anyone can offer diverse products, the key is to be able to unite them under the umbrella of a unique and, at the same time, coherent "artistic narrative".
STEPS FOR THE TRANSFORMATION OF BUSINESS MODELS
Summarizing and structuring. The process of transforming the business models of artistic projects requires to be active in all the following steps:
1.- Diagnosis of the current business model.

It is about knowing deeply all the issues that make up the activity. What is the value proposition, to whom it is addressed, the production process, what resources and skills are available, incomes generated by the activity and what are the costs involved.
2.- List of new values and capacities.

Once the current business model has been defined, the second step will be to find out what other talents, values, capacities or skills the company or organization has and are not being used. These capacities can be creative or belong to other fields of activity. Creative ones can come from other artistic disciplines. Non-creative people can be linked, for example, to education, health or social work. 
3.- Definition of a new artistic multi-project.

Some of the new capacities defined in the previous stage can be seen as opportunities to design new projects and thus expand the offer.
The table below provides examples of different components of an artistic multi-project, the values or capacities that have generated them, and how they can generate income.
| | | |
| --- | --- | --- |
| PROJECTS | VALUES / CAPACITIES / SKILLS | SOURCES OF INCOME |
| Shows / Concerts / Artistic Productions | Creation and production of artistic content | Direct sale or self-production of concerts, exhibitions, shows, etc. |
| Educatiol: workshops, courses, etc. | Pedagogic | Teaching courses, classes, workshops, etc. |
| Collaborations with third parties | Creation / perform artistic contents | Collaboration fees |
| Media and music recording | Creation and production of artistic content | Digital streaming platforms. Online stores |
| Rights, licenses | Creation of artistic content | Sale of rights |
| Music Therapy / Art Therapy | Therapeutics | Treatment fees |
| Socials | Social cohesion / Inclusivity | Direct sale of social projects |
| Business Innovation | Creativity | Direct sale to companies |
4.- Building a new artistic narrative

The artistic narrative is the articulating element of the multi-project. The narrative defines it, encompassing the different capacities and projects under the umbrella of the creativity of the artistic direction. Once the multi-project is defined, the artistic narrative will answer the questions that define the value proposition. These are: what I am, what I do, why I do it, how I do it, my history and recognition, and as a consequence, what I offer. In the following link you will find the guide "Building the artistic narrative for mobility".
5.- Design and implementation of a transformation plan

The final step consists of developing a plan to address the transformations. The process of transition to the new project and the exploration of the new opportunities it offers must be carried out in a planned way. All the actions to be carried out will be included in the transformation plan. Each of these actions must respond to the different goals to be achieved in the short, medium and long term.    
TIME AND RESOURCES TO REFLECT, DIAGNOSE AND PLAN
Any company, organization or cultural project that wants to start a process of transforming its business model towards a more efficient one, must take into account that it must dedicate time and resources. The analysis and design phases do not have to last more than six months. However, to achieve satisfactory results, the transformation process can last from one to three years.
It is essential in these first months of design to dedicate time and resources. Thus, the implementation stage will run solidly. Deeply analysing the business model and redefining the different aspects of a new one based on other capacities, is key to implementing a realistic and effective transformation plan.