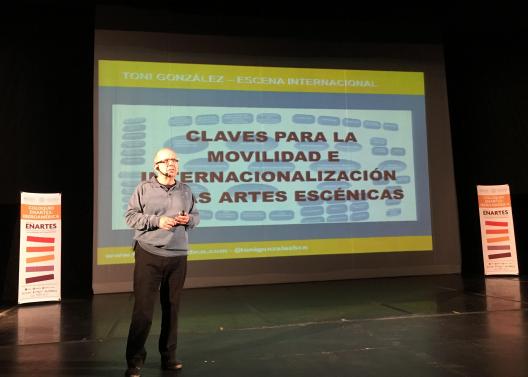 Opening lecture in ENARTES 2017 in Mexico City
Toni Gonzalez opened the Mexican performing arts annual meeting ENARTES 2017 giving a lecture on the keys for the artistic mobility.
El encuentro ENARTES 2017 tuvo lugar en Ciudad de México los días del 4 al 8 de diciembre de 2017. En él se presentó la más reciente producción de teatro, danza y música de todo el país a una audiencia de profesionales de las artes escénicas y la música: programadores, productores, distribuidores, etc. venidos de todo México, además de a una nutrida participación de profesionales internacionales. Más información sobre ENARTES 2017 (aquí).
Toni González abrió el encuentro en el marco de los COLOQUIOS ENARTES, impartiendo la conferencia "Claves para la Movilidad e Internacionalización de las Artes Escénicas".  En ella se presentaron los principales retos que artistas y organizaciones de las artes tienen que afrontar para abordar con éxito la movilidad de sus proyectos a nivel nacional e internacional. La conferencia tuvo lugar en el Centro Cultural del Bosque de Ciudad de México.
La semana anterior a ENARTES, y como actividad previa al encuentro, Toni González estuvo dando un taller de tres días de duración sobre la movilidad e internacionalización artística. El taller iba dirigido a compañías y estructuras artísticas  de todo México y, especialmente, como preparación para mejorar su visibilidad y comunicación ante el evento que se iba a producir la semana siguiente. El curso que tuvo lugar en el CENART (Centro Nacional de las Artes) de Ciudad de México fue retransmitido por streaming al resto del país.
El encuentro ENARTES 2017 estuvo organizado por la secretaría de cultura del Gobierno de la República de México y por el FONCA (Fondo Nacional para la Cultura y las Artes) y tuvo lugar en el Centro Nacional de las Artes y el Centro Cultural del Bosque de Ciudad de México.