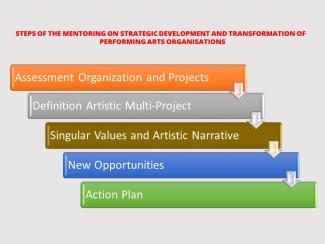 Mentoring on strategic development and transformation of the business model is aimed at performing arts organisations who wish to redefine their activity to adapt it to new opportunities and circuits.
The mentoring on strategic development focuses on the necessary sustainability of the performing arts and music projects. This fact drives organizations to use all their creative abilities and talents to design new projects according to new circuits and markets.
In the mentoring on strategic development and transformation of the business model, we facilitate the exploration of all the capacities and resources of artistic organizations to:
Design new projects that minimize barriers to the development and continuity of the activity.
Discover the circuits and markets where the new projects fit.
Define a new artistic narrative suitable for the new projects and circuits.
Design a new business plan for the new scenario.
In the mentoring on strategic development and transformation of the business model, we propose a work in steps, in which at each moment we use specific tools, most of them own, for greater efficiency in the analysis and implementation of redefinition processes.
In the mentoring we consider the following steps and methodologies:
Initial assessment of the business model. Systematic description of the projects, capabilities, value proposition and current resources of the organization. To establish the business model of a cultural organization we use the CANVAS method
Analysis of the projects and their circuits. We use the SWOT+ (swot plus) tool. From the knowledge of the strengths, weaknesses, threats and opportunities of the projects, we establish their circuits, potential markets and gateways (more information on SWOT+ technique in Spanish)
Resources available and required by the organization. Structures and tools available for management, communication, distribution, financing and generation of new projects
Design of a new artistic multi-project. The artistic multi-project improves the singular values of the offer (more information)
Analysis of the singular values of the organization and projects (more information)
Definition of a new artistic narrative. A narrative for the performing arts and music organizations to present their projects in a global way, to audiences unaware of them, but potential partners, clients, collaborators or funders (more information)
New opportunities and circuits. Selection of circuits, target markets and their gateways. Set short, medium and long term goals regarding new projects, circuits, gateways and the organization's business model
Design of a strategic business plan for the development of projects and organizations. The strategies to introduce the projects in the defined circuits will be defined. In addition, all necessary actions in the fields of communication, digital communication, distribution, new projects and new collaborations, financing, visibility of projects and support (look at the image above)
The mentoring is aimed at both public and private artistic organizations, with long experience and very consolidated business models, as well as relatively new, large and small organizations, or individual artists.
Get in touch with us and tell us about your projects and needs for transformation and development (contact).