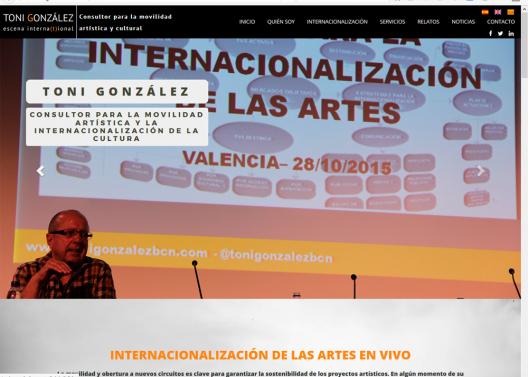 Screen shot new wesite 2017
The new web 2017 wants to be a sounding board to strengthen the international artistic mobility.
We just launched the new website www.tonigonzalezbcn.com, we invite you to visit it and give your opinion. As it is always said - in this case it is true, it is not completely finished, there are sections yet to be completed, but it already gives a glimpse of what is and may become in the near future.
The website wants to be the sounding board of the professional work as a consultant, mentor, trainer and researcher in matters related to mobility, artistic and cultural circulation, and international collaboration. In addition, it will be the repository of resources for mobility used in online mentoring and courses.
Its birth has been a long process. Together with our inseparable Jaleo we have spent many hours learning the system and defining the different sections. This has also gone very well for us to continue the process, which never ends, reinventing the professional activity. Of the technique and the contents we respond with enthusiasm. Perhaps not so much at the design level that still needs some adjustments.
The website is built using the latest version of Drupal, number 8. This is a powerful and flexible content management system which allows a very open website, having the ability to evolve in any direction and with great freedom. Being an open source software, involving an important community of developers from all over the world, its use and maintenance deepens in collaborative practices where collective intelligence exercises its power and achieves unique results. The web adapts to all mobile devices and is multilingual.
If you fancy, leave a comment about your pros and cons of the web and how do you think it could improve. Thanks in advance.