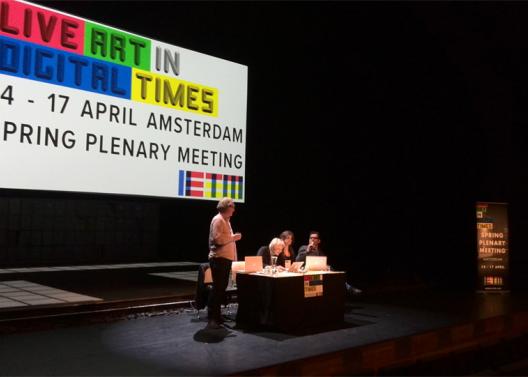 Plenary IETM meeting in Amsterdam (2016)
The first IETM Plenary after Valencia will be held in April in Bucharest. The status of the artist will be a main theme of the agenda.
El estatuto del artista se sitúa en Europa en la primera línea de debate entre los profesionales de la cultura. La precarización provocada por los recortes de los presupuestos públicos en cultura y la crisis en toda Europa, han puesto de relieve las lamentables condiciones  de trabajo de la mayoría de artistas y trabajadores de la cultura en Europa. Por este motivo cada vez son más numerosas los debates e iniciativas para la mejora de las condiciones sociales y laborales de los trabajadores culturales. Una de estas iniciativas ha tenido lugar en el Congreso de Diputados de España con la creación de una subcomisión para la elaboración de un Estatuto del Artista (más información sobre el estatuto social del artista).
El IETM, a una escala internacional, reabre este debate en su reunión plenaria de Bucarest. La búsqueda de un estatuto social del artista en Bucarest estará ligada a pensar nuevos modelos de sistemas culturales en donde la cooperación y la resiliencia estén en la base. El planteamiento es que ya no sirve pedir mejores condiciones a un viejo sistema cultural desarrollado a partir de considerar la cultura como una mercancía. Una nueva manera de entender la cultura como un derecho de la ciudadanía y con valores que le son propios, ha de propiciar unas condiciones de trabajo acordes con estos valores (más información sobre IETM Bucarest).
Toni González estará en Bucarest y participará en los debates sobre el estatuto del artista y los nuevos modelos de la cultura en el contexto de una Europa cada vez más convulsionada. Además  participará en las reuniones de la Junta Directiva de IETM (Board) y de la Comisión de Consejeros (Advisory Committee).